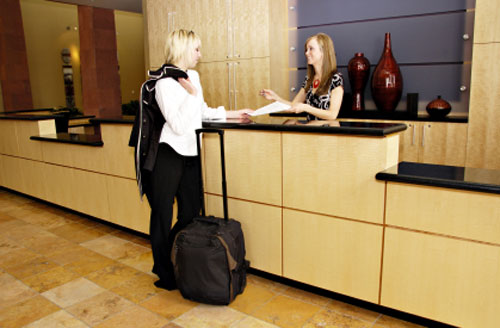 Apr

07
Tags
Related Posts
Share This
Property staff can encourage direct bookings
GLOBAL REPORT—As hoteliers increase their sales focus on direct bookings, many are relying on rank-and-file employees, such as front-desk staff and reservations agents, to accomplish that goal.
"We have always encouraged our employees, and especially front-desk people, to motivate customers to book directly with us," said Joseph Smith, executive VP of Greenbelt, Maryland-based Chesapeake Hospitality, which manages 21 U.S. properties.
One key reason: Direct bookings help build genuine customer relationships as opposed to simply logging a booking. A consequence of the Internet age, Smith said, is that traditional hospitality relationships have been reduced to mere transactions.
The simplest, most effective way to engage and educate guests who initially booked via an online-travel agency is to inform them that, contrary to a widespread myth, the lowest rate available will be offered direct. That's because typical rate-parity agreements specify that, while they can offer the same rate, no third-party seller can offer a rate lower than the supplier.
"And 99% of that kind of education happens at the front desk," Smith said. "It's a customer-by-customer process."
Chesapeake Hospitality includes such educational tactics in its basic training of front-desk employees and offers no formal rewards for future performance. "We consider it part of their normal job of servicing the best interests of the guest," Smith said." And part of that is letting them know how to best book future stays to get the best value."
Providing incentives
Wendy Norris, corporate director of revenue and ecommerce at San Antonio, Texas-based Valencia Group, which owns two independent hotels and manages three, agreed that front-desk personnel are key to success when it comes to direct bookings.
However, she said, Valencia Group offers incentives in addition to training.
"If a guest arrives from an OTA or even via our global distribution system, we incent staff to gather email addresses and talk about our repeat guest program and things like our best rate guarantee card," Norris said.
Incentives include cash rewards to front-desk employees who gather the most email addresses or enroll the most members in the company's repeat guest program.
"And we don't just do that with people on the front desk," Norris said. "We also do it with people who work on our dedicated reservations team. We also train them to gather email addresses and sign people up for the repeat guest program."
The results of the company's efforts over the last decade have been dramatic. Today, of Valencia's Web-based business, including OTAs, about 70% comes from direct bookings.
After deducting the incentive rewards paid out, Norris said, the company enjoys a significant net revenue gain based on commissions it does not have to pay.
Brand management
At the 556-room InterContinental O'Hare in Chicago, management also trains and motivates front-desk and reservations personnel to exploit every possible opportunity to convert an OTA customer to a direct booking customer for future visits, Leslie Vosburgh, business travel sales manager, said.
"We involve our front-desk employees in really getting to know guests so we know what they want the next time they come in and we can greet them by name and welcome them back," she said. "And those are levels of service that you don't necessarily get if you book through an OTA. So we train our people to make that kind of distinction in terms of customer service."
They also train staff members to promote IHG's rewards program, which Vosburgh said is one of the best in the industry. "We educate people so they understand that if they book directly with us, they get Priority Club points for every dollar they spend, whereas with a third-party OTA, they get no points," she said.
To motivate employees, the hotel offers formal recognition, such as Employee of the Month status that might include preferential parking or some other perk in return for being the most successful at generating direct bookings.
And like Valencia Group, InterContinental Chicago O'Hare has enjoyed excellent bottom-line results. Only about 10% to 15% of its business now originates with OTAs, while 70% to 75% comes from direct bookings.
Small property, big success
Another example is 23-unit Lodge at Chaa Creek in Belize, opened in 1981 as the country's first jungle resort and now recognized as an early pioneer in adventure travel.
Marketing representative Larry Waight said staff dedicates a lot of time and resources to the generation of direct bookings.
"We invest a lot of time and effort to Internet marketing aimed at increasing direct bookings," he said. "For example, we use aggressive (search engine optimization) and blogging strategies to accomplish that by maximizing our rankings in search engines such as Google, Yahoo and Bing."
A team of five employees that includes Waight writes and posts compelling original content every day. "And we optimize for key search terms such as 'honeymoons in Belize' or 'adventure travel to Belize,'" he said, noting that the property often wins the No. 1 search engine spot for a given search term.
The resort also offers significant discounts for direct bookings, depending on the type of accommodation and time of year.
As a result, Lodge at Chaa Creek now has more than 10,000 subscribers to its blog. Over the past few years, Waight and his team have increased direct bookings from 70% to 80% of the property's total business.
"And that," he said, "has contributed significantly to our profitability, based on commissions not paid to OTAs, even after absorbing all of our costs, including dedicated staff."