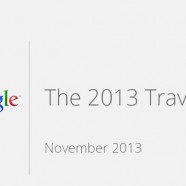 Nov

25
Tags
Related Posts
Share This
Google 2013 Traveler – devices, web and travel video impact
 Full source of the study: Google 2013 travel study, Google November 2013
Travel videos inspire the majority of leisure and business travellers to plan their trips, reveals a Google Think Insight study.
The study was conducted among the leisure and business traveller segment to understand how trip planning behaviour has changed over the past year.
Profile of leisure and business travellers
Leisure travellers seek travel inspiration online, anticipate more family travel, and want to stay connected while traveling:
68% began researching online before they decided where to travel versus 65% in 2012.
49% plan to travel more frequently with family in the coming year versus 46% in 2012.
42% are more likely to use their smartphone or tablet for travel related information while on a trip versus 33% in 2012.
Below graph shows the key parameters that leisure travellers consider while selecting a travel destination.
When it comes to business travellers, they continue to prioritize brand sites, price and convenience. 65% of business travellers book travel directly on brand sites more often than via OTAs, this is a 11% increase from 2012.
For business travellers, the top three key requirements when selecting travel include:
Air travel
Price
Most convenient departure/arrival times
Fewer stops, better connections
Lodging
Price
Most convenient location
Past experience with establishment
Car Rental
Price
Past experience
Reward/travel points
Apparently, business travellers are more inclined (compared to leisure travellers) towards loyalty program memberships while booking their travel.
The study shows the leisure and business traveller segments are merging –  57% of business travellers plan to extend a business trip to include leisure time when traveling.
Travel products used by business travellers are changing – 43% of business travellers plan to research or use P2P sharing alternatives, such as Airbnb or Zipcar.
Travel inspiration and planning
Internet remains as a key channel for both trip inspiration and planning. In case of trip inspiration, close connections like family/friends/colleagues take the top spot.
Travel related search tops the chart among online travel activities by leisure travellers. Among business travellers, travel search activity stands at number three.
58% of leisure travellers always start their travel planning and booking process with search, last year it was at 56%. In case of business travellers, the number is at 64, last year it was at 58%.
Travel review websites take the sixth and seventh place among leisure and business travellers respectively.
Leisure travellers rely on OTAs for inspiration as well as for destination planning:
51% of leisure travellers visit OTAs at the point when they are considering a few destinations
43% do so when they know exactly where they're going
6% do so when they are considering many destinations
When leisure travellers are at a destination, 58% of them rely on online sources to research local activities, below are top sources:
42% – Brochures/Books in my room/house
41% – Destination website/app
41% – Walking around destination
31% – Concierge/staff at accommodation
27% – Other people on trip
25% – Accommodation website/app
22% – TV in my room/house
21% – Other travel websites/apps
14% – Online videos
Trip planning happens across multiple devices
Below graph lists the top ten activities that travellers do when they switch devices.
Among the respondents who used smartphones for travel planning, 25% of them book their trip via smartphone. Below is the segment-wise breakup:
Air: 19%
Hotel: 25%
Cruise: 29%
Car: 25%
75% of respondents book via alternate channels like desktop/tablet, direct call or travel agent.
The study also says that travel brands still deliver sub par mobile experience (another Google study reveals a similar observation in Middle East travel market). Three focus areas for mobile experience improvement are the speed of operation, design and action performed on mobile platform.
When it comes to native app versus mobile website for travel booking, the latter dominates.
Travel advertisements on smartphones help travellers remember marketers and take action:
68%  of travellers recall ads viewed on smartphones compared to only 59% on desktop
71% of travellers who saw ads on a smartphone took action compared to just 63% on desktop. Below are the top three actions taken by travellers:

30% looked for more information on their device
25% clicked an ad
24% visited the website of the advertiser
Online videos impact on travel planning
Online travel video usage among travellers is increasing. Percentage of travellers who watch online travel videos:
51% of leisure travellers vs 45% in 2012.
69% of business travellers vs 64% in 2012.
55% of affluent travellers vs 50% in 2012.
Below chart talks about what travellers do/think when they watch travel videos.
Types of travel videos viewed:
62% – Videos made by hotels, airlines, cruises, tours, etc.
59% – Trip reviews from experts
57% – Videos from travel-related channels
55% – Trip reviews from people like me
48% – Videos made by people like me
42% – Commercials/ads from companies/brands
37% – Videos by friends and family
Below chart talks about actions taken by travellers after watching travel videos online.
40% of leisure travellers film their travel experience and share with others. In case of business travellers, this number is at 48%.
– This article was published on: tnooz